Nau mai haere mai
We are situated right on the beach at the base of Mount Titirangi, at the start of the historic Cooks Cove Walkway and right beside Tolaga Bay's historic wharf, the longest of its type in the southern hemisphere at 660m.
BEACHFRONT LOCATION
We have a fantastic sandy beach right in front of the park, safe for all types of water activities - or for just relaxing and enjoying the views.
ACCOMMODATION
We offer a range of accommodation with 13 cabins, 52 powered sites and 85 tent sites. Click "Book Now" to see a range of accommodation options and prices. Terms & Conditions
FACILITIES
We have a range of facilities including BBQs, covered outdoor dining area, playground, boat tractor and laundry.
There is great fishing for the whole family from the wharf and we have fish filleting and cleaning benches.
Over the peak period we have a small shop with drinks, snacks, ice creams etc...
He mihi

Kei aku nui, kei aku wehi kei aku rangatira, tènà koutou i tènei kaupapa. Kàti, haramai ki a Tìtìrangi maunga, ki Ùawanui a Ruamatua e rere nei, ki a Te Aitanga a Hauiti e mihi atu nei ki te iwi whànui i runga i te ahuatanga o nga mana kaitiaki o te wai, o te whenua, otira o te tangata tonu, tihei mauri ora!

Karanga mai e te kaupapa whenua o te kaporeihana o Hauiti me Mangaheia. Kei ngà kupu ruarua nei te whakaaro nui ki ngà mahi e kòrerotia ana;

Whanaungatanga – Whakanui whanau

Rangatiratanga – Whakamana te whanau

Kaitiakitanga, Manaakitanga – Kia mataara ai te iwi ki ngà tikanga

Wairau – Kia tipu, kia ora
Management Team

Local couple, Liz and Dion have been managing the park since July 2016.

They have a wealth of knowledge about Tolaga Bay and the surrounding areas and will be happy to provide advice on local attractions.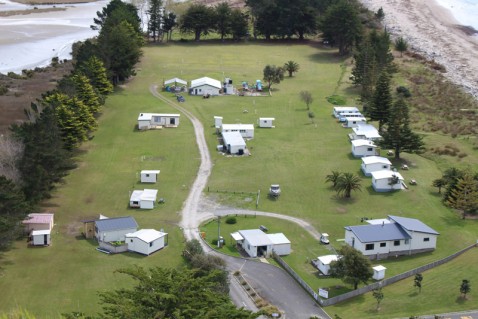 Hauiti Incorporation
This Holiday Park is proudly owned and operated by Hauiti Incorporation.
Hauiti Incorporation is owned and operated by Maori, with today's owners being direct descendants of their tipuna (ancestors) who welcomed Captain Cook in 1769.
The historic Cooks Cove, the amazing Hole in the Wall and the popular Cooks Cove walkway are all located on Hauiti land.
The significant mountain to the south east of this Holiday Park is our maunga (mountain) called Titirangi (pronounced "Teterangi").
Hauiti has 14 kilometres of coastline which includes both a Seal and a Gannet colony.
Click here to learn more about Hauiti The Park